Air International's Intelligent Thermal Technologies Drives Cabin Comfort, Battery Thermal Control and Energy Saving to a New Level for NIO ES8 Electric Full Size SUV
Posted: October 8, 2018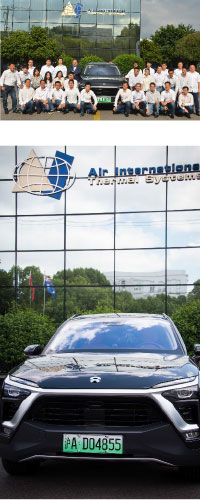 Air International Thermal System's team based in Shanghai, China collaborated with NIO to engineer and supply the complete thermal system for their first EV the ES8, a 7 seater SUV. AITS is a global leader providing technically advanced thermal solutions for electric vehicles. The passenger vehicle is undergoing a revolution. An increased focus on passenger comfort and other unique challenges in electric vehicles, requires new technologies. Comfort has many aspects; thermal, acoustic, smell and visual. ES8 is a concentrated display of our technologies which drives thermal comfort to a new level in the industry.
The Heating, Ventilation and Air Conditioning (HVAC) System provides unprecedented rapid cooling & heating of the cabin. The split design in our central HVAC module has enabled significantly more leg room in the cabin. This strategy together with technology such as brushless motor and noise oriented thermal control logic, enabled AITS to deliver a "whisper" quiet cabin. A second HVAC unit is included in the rear to provide independent heating and cooling for the rear passengers. Cooling is provided through an electric compressor and electrically controlled expansion valves, while heating is provided by a series of high voltage electric air and coolant heaters.
Air pollution control is a big focus in China and the HVAC in ES8 incorporates Advanced Air Quality Active Control Management through high tech filters and PM2.5 sensors. AITS developed an active cabin pollution control system that monitors the inside/outside air quality in real time maintaining cabin air quality, while simultaneously controlling noise and passenger comfort.
Electric Vehicles present different types of thermal complexities, as we now have to consider not only Comfort of the passengers but also actively managing thermal "comfort" of the battery to provide extended battery life & increased drive range. Energy consumption is paramount when considering all the aspects of an EV and needs to be carefully managed not to waste power. These challenges are achieved using high tech components and uniquely developed sophisticated control strategies and algorithms. To achieve these levels of power saving, the system is controlled in real time. We also designed a system of algorithms to enable fast battery charging. Our software supports multiple HMI applications such as touch screen, voice control and remote control. Wireless remote SW updating and data cloud process enabled.
Our system also manages the heating and cooling of other high voltage electrical components through a series of coolant and refrigerant loops moving fluids through heat exchangers and electric motors, inverters and the like. The fluids are directed through these complex webs by a myriad of valves, coolant pumps and sensors ensuring the optimal thermal performance of all components is achieved. This is controlled by the sophisticated software found in our thermal controller.
Air International was founded in 1967 in Melbourne, Australia and has provided passenger comfort solutions for its customers for more than 50 years. In this rapidly expanding China EV market we are very proud to have been selected by NIO as their thermal system partner. The successful launch of the vehicle has been achieved through a close working relationship between both organisations. This relationship now continues to the next vehicle with even more thermal technologies applied. Each day presents new challenges in the EV field and we are ready and able to meet those head on at an extraordinary pace.