Global Leadership Team
Air International's global leadership team reflects the company's broad reach and deep expertise in automotive system design and production. Under CEO Rejie Samuel, its members have roots in four continents and global experience to match.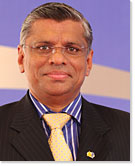 Rejie Samuel - Chief Executive Officer
Rejie Samuel joined AITS in 2005 as chief financial officer and was made chief operating officer in 2008, relocating from Melbourne, Australia to Shanghai in the process. As COO of Air International, he led the company through the successful expansion into multiple markets and is credited for having built the core management teams. Samuel has been involved in the automotive components industry for more than 10 years. His other experiences were in the FMCG where he spent the initial 10 years before moving into the automotive industry. Prior to AITS, Samuel was president of TRW Automotive's operations in South Korea. He joined TRW as Finance director in 2001 and was made president in charge of overall TRW operations in Korea six months later.

In 1988, Samuel began his career as an Accounting supervisor for Colgate Palmolive in Kuala Lumpur, Malaysia. He spent 10 years at Colgate Palmolive having moved into several positions, such as cost accounting manager, finance manager, budget manager and finance manager- factory and operations. He later moved to Kellogg's South East Asia as finance director.

Samuel is a Chartered Management Accountant (UK) and also a Chartered Accountant (Malaysia).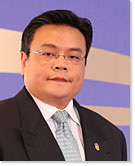 Kei Hong Chua - Chief Financial Officer
Kei Hong Chua brings nearly 18 years of banking, finance and accounting experience to AITS. Prior to joining AITS, he was executive vice president and chief financial officer of ASAT Holdings Limited, a NASDAQ listed global provider of semiconductor package design, assembly and test services based in Dongguan, China. Before that Chua was head of Standard Chartered Bank's Alternate Investment Group in China, where he was responsible for proprietary investments in special situations across Asia. Previously, Chua served as a senior manager in Corporate Finance and Business Recovery Services at PricewaterhouseCoopers in Hong Kong and as a senior manager in Arthur Andersen's Global Corporate Finance - Corporate Restructuring Services in New York. In addition, he served as a founding partner and CFO of Vertical Think, Inc., a management and consulting firm for companies engaged in eBusiness.

Chua holds a bachelor of science degree in finance and accounting, graduating magna cum laude, from New York University. He is also a Certified Public Accountant in the United States.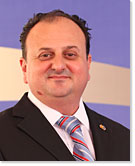 Nick Economou - Chief Technology Officer
Nick Economou is responsible for all engineering administrative functions for our global technical centers, directing several professional teams, to develop our next generation of products. Nick is located at the Auburn Hills technical center in the USA and reports directly to the CEO.

Nick has served in many engineering capacities at Air International over the past 22 years. Most notably, as the director of engineering he was instrumental in establishing our operations in North America and initiating activities in Europe.

Nick has devoted his entire career since graduating with honors at the University of Sydney to automotive HVAC and engine cooling. With experience in quality, manufacturing and engineering, he provides a great depth of knowledge in leading the technical team.
Most recently, Nick has established the Electric Vehicle Thermal Division as AITS focuses more on sustainable solutions and supporting OEM's with their "green" endeavors.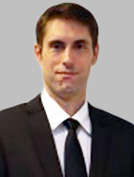 Nicolas Duke - General Manager Thailand
Nicolas Duke first joined Air International in 2009 as Operations Director and, in 2013, took over full General Management responsibility for Air International's operations in Thailand. These facilities are capable of manufacturing full HVAC modules as well as a variety of heat-exchangers supplied to local and global OEM customers as well as to Air International facilities worldwide.
Nicolas brings with him 18 years of operations and supply chain experience in Asia Pacific and globally, having worked for GKN Driveline in Europe, Thailand and Brazil, Trimotive in Thailand, as well as experience with local factory management in both low volume / high mix and high volume manufacturing environments.
Nicolas is an Aerospace Engineer with an Meng (Hons) from Bristol University in the UK.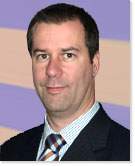 Peter Lambeth – General Manager Europe
Peter Lambeth is responsible for the operations of our European Business unit. Peter is based in Midlands, United Kingdom and reports directly to the CEO in Shanghai.
Peter has 25 years in the automotive industry with cross functional experience in purchasing, manufacturing, operations, logistics, sales and program management. Peter has served at Air International for the past 15 years. Most notably, as General Manager, leading the Australian Business unit.
Peter has a Bachelor of Applied Science (Manufacturing Operations) – RMIT University Melbourne.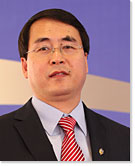 Henry Huai - Vice President of Air International Thermal Systems, and President of Air International China
Henry Huai is currently leading Air International Thermal Systems China business which includes a wholly owned operation (Air International Shanghai) and a joint venture operation (South Air International) in Chongqing. Henry Huai is based in Shanghai, China and reports to the CEO.

Henry has a Ph.D. degree in Thermal Fluids. Prior to joining Air International, he was a Technical Specialist with Ford Motor Company, responsible for integrating Climate Control, Powertrain Cooling and Aerodynamics to meet vehicle design requirements. He has 29 years work experience in teaching, research, and Automotive industry.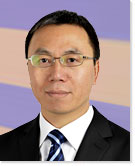 Kevin Yang - General Manager, AISH, China
Kevin Yang is currently leading Air International's Shanghai manufacturing facility. This team is driving manufacturing operations excellence by deploying lean practices to deliver consistent high quality product and at a service value to meet dynamic requirements of the largest vehicle market of the world. Kevin is based in Shanghai and reports directly to the President, AI China.

Kevin has a bachelor's of Industrial Engineering from Hebei Institute of Technology and a MBA degree from Shanghai University of Finance and Economy. He had been working as Quality Director of Asia and Operations Director prior to the current role since he joined the company in 2006. Prior to Air International, He had worked in various program, quality and operations positions in some world leading manufacturing companies, including Magna Closures and AMP (now as Tyco Electronics).
Jeffrey Lew - General Manager, SAI China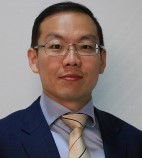 Jeffrey Lew is currently leading South Air International Co., Ltd (SAI), a joint venture between Air International and China Changan Automotive Group (CCAG), which supplies engine cooling and climate control systems and components to several major OEMs. Lew is based in Chongqing, China and reports to the President, AI China.
Lew has 15 years' experience in the automotive industry with cross functional experience in engineering, program management and operations. Prior to the current role, Lew has worked in the capacity of Engineering & Programs director at SAI, leading the global team and delivered flawlessly launched programs working with customers in China, USA, Europe, Australia and Japan.
Lew holds a master's degree in engineering Science (By research) from the University of Melbourne, Australia and a bachelor's degree in mechanical engineering (Hons) from the University of Melbourne, Australia.

Vikram Joshi – Director of Engineering (India & Europe)
Vikram leads the engineering at AI-TTR a joint venture between AITS and TTR in Pune, India and AI-Europe. He reports to the CEO and CTO.

Vikram has 25+ years experience in the automotive industry working in Australia, China, India and Europe. He has been with AITS for the past 20 years. Most notably, as Engineering Director establishing a technical team in Shanghai and India supporting AITS globally.

He has a double Master of Engineering in Computer Integrated Manufacturing and Automotive Air Conditioning from Swinburne University & Post Graduate in Business Administration from University of Melbourne. He has published papers and presented at AIRAH and VTMS on several occasions. He also mentors and supports Master and Ph.D students in their research work..