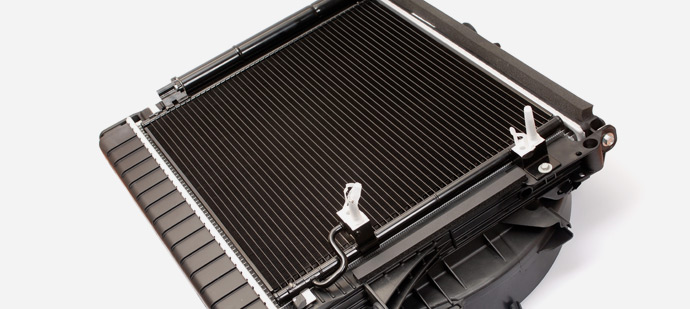 Condenser/Radiator/Fan Modules (CRFM)
Air International designs its condenser/radiator/fan modules (CFRMs), which are also known as powertrain cooling modules to deliver high performance with low mass. Our designs minimize the number of parts and fasteners in the final assembly.
Air International designs systems to meet the needs of any vehicle architecture and cooling conditions. We model the coolant circuit and airflow to optimize the stack-up of the module components and make recommendations for baffles, seals, and other underhood componentry.

We assemble condenser/radiator/fan modules (CRFMs) at global sites near our customers to ensure on-time delivery and low work-in-progress inventory. We work with our customers' engineers to integrate each system to specific vehicle requirements. Our CRFM modules are designed and tested to withstand extreme vehicle operating environments. They are produced at AITS TS16949 and Q1 certified manufacturing operations.

Our CRFMs have four primary components:

Condenser
We use our sophisticated virtual engineering design and simulation tools, to develop, design, test and manufacture a condenser that fully integrates with other components in the engine cooling system. That level of integration enables us to creating solutions that satisfy our customers' most rigorous vehicle technical requirements.

Key features:
TS16949 and Q1 certified manufacturing
Optimized micro tube extrusions to meet customer's performance requirements
Nocolok Braze Aluminum construction
May be delivered painted
Radiator
As we design our CRFM solutions we carefully select a radiator that integrates well with the entire front-end system. To optimize performance we use simulation tools to test numerous variables before production begins.
Overall core size accounting for unique customer package
Available coolant/liquid flow rate and other vehicle parameters
Noise Vibration and Harshness considerations
System purge, fill, and service procedures to be used
Other features:
Pipe/fitting construction for ease of assembly and serviceability
Hydrophilic coating for improved water shedding, odor elimination and corrosion protection
In-house optimized folded "B" manufacturing
Nocolok Braze Aluminum construction
Air International also works with its supplier partners to design and manufacture low temperature radiators (LTRs).

Cooling Fan Module
Air International partners with its global supplier partners to design and manufacture motors and fans incorporating the latest technology. We can deliver either high efficiency low-mass brushless motor fans with PWM control or simple, low-cost brush commutated models, depending on customer requirements.

Refrigeration Lines, Hoses and Tubes
Air International has engineering and quality experience with most fittings used in the automotive industry. We design, route, and package hoses, lines and fittings that meet each customers service and durability targets.